Race Timing at your Finger Tips
Simple, Intuitive and Accurate - Tap Timing is a refreshingly different Race and Event Timing System. Whether for large scale events or smaller race meetings Tap Timing works brilliantly every time!
Tap Timing gives you the ability to easily Plan, Arrange, Race and Share your race season. Firstly, you'll 'Plan' the season using the Event Plan. You'll create an Event Plan for your season that will include the Races you want to Schedule. Next, 'Arrange' your Event Plan using the Event Schedule Wizard. Tap Timing will prompt you for the number of events to create within the Event Plan. It will automatically create them for you so that all you have to do is fill in the details! After arranging your events the Event Schedule Wizard will ask you if you want the events to be part of a league. A simple 'Yes' or 'No' puts them into a league, or creates them as standalone races.
Once you have completed the Event Schedule Wizard, your events, in date order, will appear on the Live Race Diary screen.
The final steps are really straightforward:
Create or Add existing categories into your races
Register your competitors for the events you have scheduled
Start the 'Race'
Enter laps for competitors
End the race
Check the results and 'Share' them on the Internet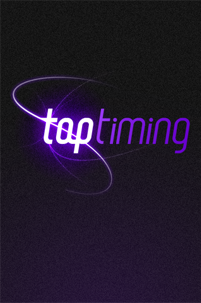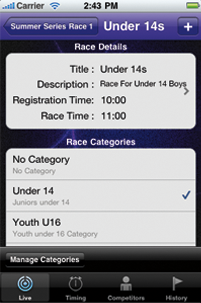 Plan
The first part of setting up your race season is to create an Event Plan. The Event Plan holds all of the events and races for your season.
Features to help you Plan your season include:
Add an Event Plan: name it, provide a location, and give it a description;
Create your races: provide a race name, registration and start time; and
Manage your categories and add them to the races you've created.
Arrange
Now that you have created your Event Plan and added your races, race categories and registration information you can now create and arrange your event schedule.
The Event Schedule Wizard will guide you through the process. The races you have created will automatically be added to the events you create. Your events will automatically be added to the Live Race Diary once you have completed the Event Schedule Wizard.
Features to help you arrange your Event Plan include:
Schedule Event – Determine the number of events in the Event Plan;
An Event Scheduling Wizard – Guides you through the process of filling in event details;
Leagues – Determine whether the Event Plan should contain a league;
A Live Race Diary – Displays the scheduled events and races in date order; and

The Live Race Diary also allows you to:

Register and create new competitors for a race;
Manage and create new categories for a race;
Start your events;
Start your races.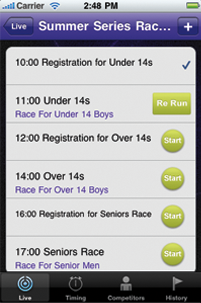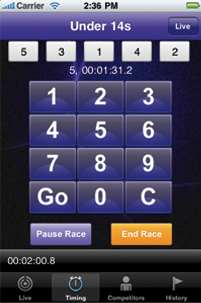 Race
Now that you have planned and arranged your season let's Race it!
Your events and races are scheduled in the Live Race Diary. You can now register your competitors for a race. You can also start the event and this will automatically schedule your races ready to be timed.
On starting an event, if you look at the Timing Screen you'll see that your first race is ready to start.
Features to assist Race timing include:
The ability to start a race;
Enter laps for registered competitors;
Support for on-the-line registration of competitors;
Correction facility for incorrectly entered competitor laps;
Last-5 view of competitor laps;
Real-time view of the current race standings;
A Race clock;
The ability to end the race;
The ability to pause a race;
The provision for splitting, adding, editing and deleting a lap;
Automatic scheduling of the next race for the event;
An advanced results validation facility which will highlight suspect laps;
The ability to re-run a race;
You can also insert a racer if they have been missed from the results;
Conversely, you can remove a racer from the results; and
Supports 'DNF' should a racer decide to abandon the race.
Share
The Race is over! All that remains is for you to Share it with anyone interested in seeing the race results.
Using Tap Timing's Timing or History screens you can:
…and Finally, with your season well underway, Tap Timing provides you with these useful features:
Backup and Restore your entire database ensuring you'll never loose all the work you have invested in creating your race seasons;
Management of every competitor you've ever created in the system;
Fast copying of vast numbers of competitors into future events;
In races where you've pre-allocated race numbers, Tap will take care of this as well for all of your races across every event in your season; and
A full history of every race you've ever run with the ability to adjust the results if and when competitors query their race position and re-publish to the Internet. You can provide some text too to say "Updated Results for Racer 72" – it's entirely up to you, the Event Organiser!